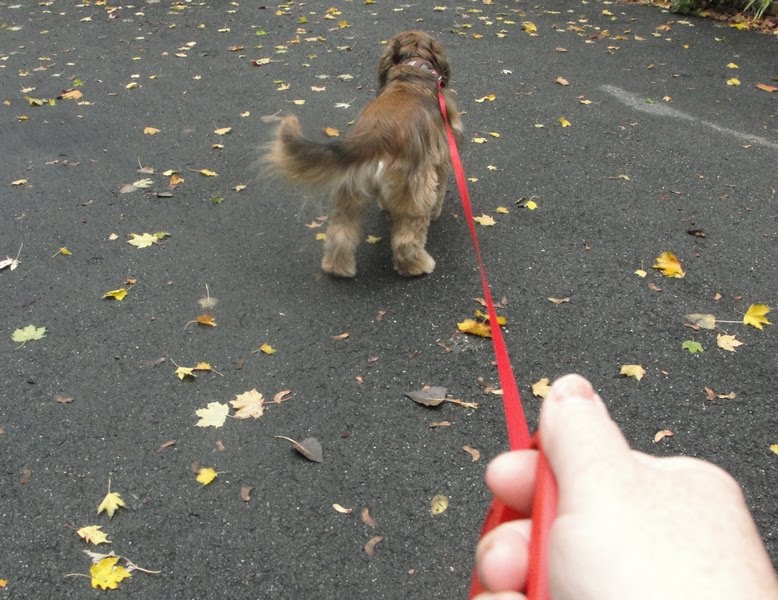 If Kelly had her way, I don't think there's anything else I'd be doing all day besides taking her on walks! So naturally, the choice of collars and leashes is very important to us. I want to make sure they're safe, and Kelly wants them to be comfortable. And it doesn't hurt if they're pretty, too!
Recently, I was contacted by Flexi USA to see if Kelly and I would test drive one of their retractable leashes. They sent us several options to choose from. I selected the 16 foot classic All Belt. Kelly and I took several long walks using the leash, which took her a little time to get used to at first. The tension on her collar felt different from the slackness she is used to feeling.
Review: Kelly and I give the Flexi Leash 4 out of 5 pawprints.
Pros:
I found the handle more comfortable than a regular leash.
The leash gives plenty of room to roam, while retracting to preventing tangling.
Cons:
The tension on the collar causes the dog to pull at the leash.
The leash is not convenient for city walking.
Since we live in th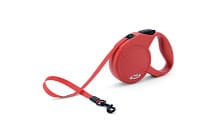 e city, most of our walking is on sidewalks that are somewhat busy. For this, I prefer a collar with a short lead for better control to keep my dog from veering into traffic or approaching other pedestrians on the sidewalk. However, the Flexi leash is convenient for parks and other places where your dog can run and wander about to explore. Kelly and I definitely feel it's important for dogs to be able to run, sniff, and explore. No fun to have to heal and behave ALL the time!
Flexi Leash comes in 10 ft, 16 ft, 23 ft and 26 foot lengths. I like the All Belt, which feels more secure to me. While the cord type leashes were longer, I would suggest watching to be sure the cord doesn't become tangled around your dog's legs.
Flexi Leash comes in many colors and designs, so the pretty factor is covered. There is even a Flexi Leash with a built-in flashlight that I think looks pretty cool!