Today our Fun & Furry, Fit & Healthy Blog Tour brings us over to The Dog Ring, where you'll find helpful and informative posts about dog products, health and activities. We're so excited to be chatting with the good folks there, who posed some wonderful questions about The Dieting with my Dog Guide to Weight Loss and Maintenance. I hope you'll visit.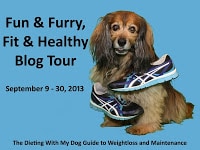 Pet Health Care Gazette alerted me to this interesting infographic. Although the data is a year old, it still shares the alarming situation of so many pets becoming obese. It's sad to see a dog so heavy it can't run and play, a cat so fat it just lays around. I hope that all the pets pictured in the infographic have been receiving better nutrition and exercise, and are now at a healthier weight. It would be interesting to do a follow up.
Want more positive pet tips, good
news, and special offers?
Fetch my free newsletter,
Pawsitively Pets. Kelly and Ike
hope to see you there!