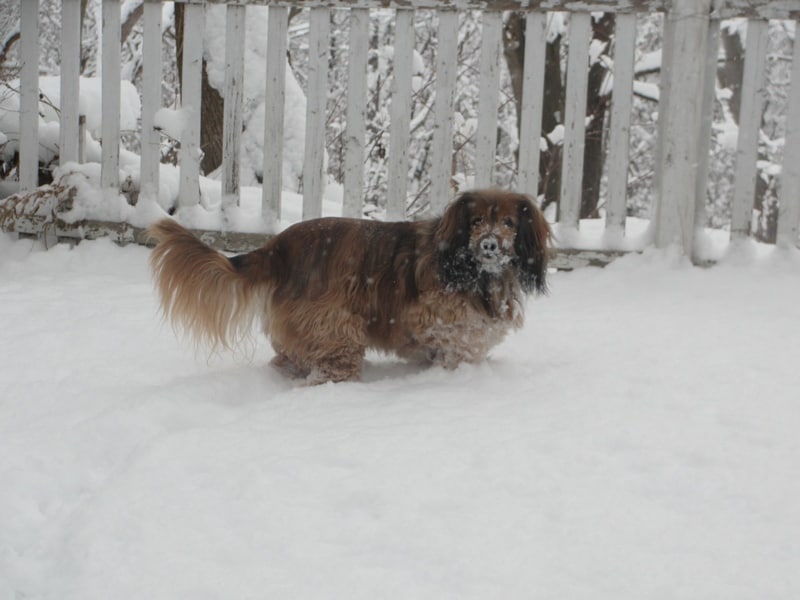 Hi and welcome to Wednesday Pet Roundup! Here's Kelly with her snow nose. We sure are getting a lot of snow this week!
*Petside.com presents its list of the Top 25 Pet People of 2010. Some famous, some not so famous, all are credited with helping animals here and around the world. There may be at least one controversial name on the list.
* Deadline Hollywood reveals this cute picture of a cute little dog attending Disney's TCA (Television Critics Association) Presentations ceremony. Apparently the dog belonged to an AOL reporter. And it wasn't even Bring Your Dog to Work Day.
* What do you think of a TV show filming stray dogs, from the dog's point of view? When offered the opportunity to participate, this city said no to "A Dog's Life". Find out why.
* Want to win a totally adorable t-shirt from Freaky Dog People? Check out this cool contest from Doggies and Stuff! Good luck!
* Can your pet predict the weather? Mercury News reports on a poll citing that two-thirds of American pet owners say their pet has a sixth-sense about bad weather. Does yours?
*Also from Mercury News, reader tips on how to keep your indoor cats happy.
* Imagine seeing dogs running loose, living in the streets, starving… Life with Dogs recently shared this post, written by Susan R. Stoltz (Marshall's savior) about a heartbreaking situation in Kayenta Arizona. It has sparked a debate about what can be done and what we, physically far removed, can or should do.