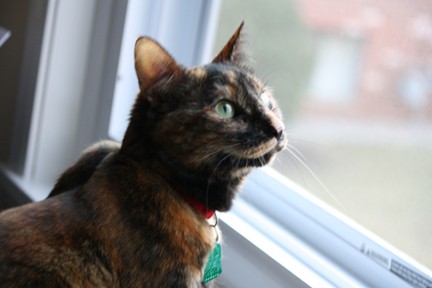 Hi and welcome to Wednesday Pet Roundup! This is my daughter's cat, Cinnamon. Cinnamon loves looking out the apartment window. In the second picture, Cinnamon is checking out the Canadian Geese in the yard. And now, here are this week's links: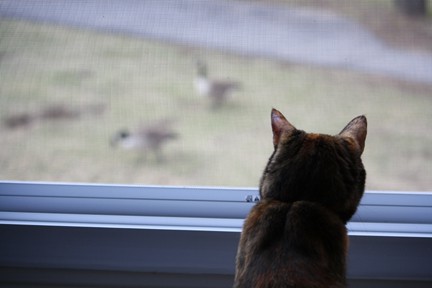 *If you haven't heard about the latest pet food recalls, here's the update: The recall covers a number of pet food brands including Canidae, Natural Balance, Apex, Kirkland, Chicken Soup for the Pet Lover's Soul, Country Value, Diamond, Diamond Naturals, Premium Edge, Professional, 4Health and Taste of the Wild.
* It's been widely reported that obesity is the #1 health concern affecting pets. Can you guess what
#2 is?………….. According to a report posted on The Huffington Post, the second most common pet health concern is arthritis.
* Abandoned cats in prison? Check out this program in the Chicago Tribune News.
* The Huff Post reports that 500 dogs, headed for the slaughter house, were rescued by hundreds of animal lovers who stopped the truck at a tool booth in China.