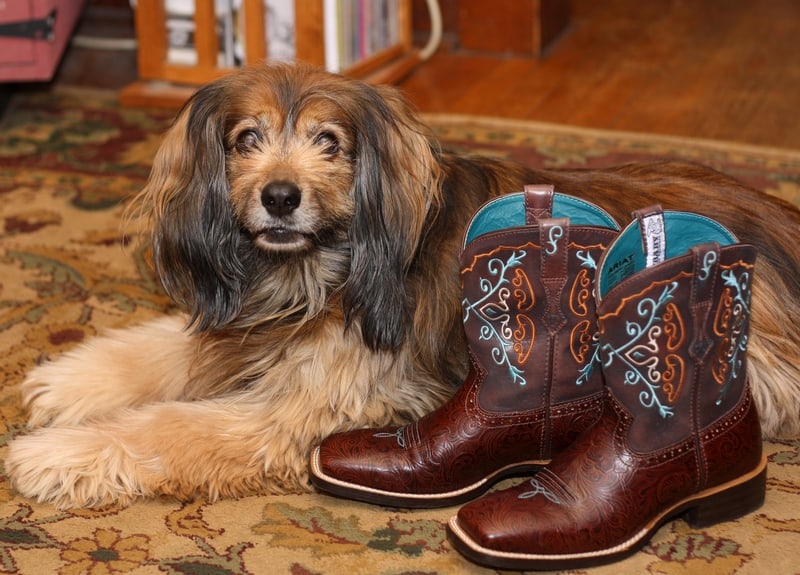 Hi and welcome to Wednesday Pet Roundup! Kelly here is all ready for the roundup too, modeling beside my Fatbaby boots!
* Do dogs need hoodies and little snow boots? Steve Dale offers some cold weather tips for your pet.
* Did you see those adorable hedgehog cheerleaders in the Puppy Bowl? Before you rush out to get one, you should be aware that the ASPCA has some warnings about keeping exotic pets, and that hedgehogs carry the risk of salmonella.
* An influx of coyote sightings in northern Illinois prompted NBC Chicago News 5 to issue this warning: Residents urged to watch pets during coyote mating season.
* Check out Be the Change for Animals to learn about the 5th annual National Children's Pet Poetry Contest sponsored by the American Pet Products Association. Deadline is February 22nd.
* The Fort Worth Star Telegram has an interesting article on angora rabbits as pets. Can you guess the fringe benefit?
* A cruise for celebrating pets? Too cool to be true. But it's true! Fido Friendly announces the Petitude Cruise aboard Royal Caribbean Cruises. Humans only, but there will be pet seminars, and a portion of each fare will be donated to pet charities.
Want more great pet news, fun content and special bonuses? Subscribe to my free newsletter. Brooks, Kelly and I hope to see you there!