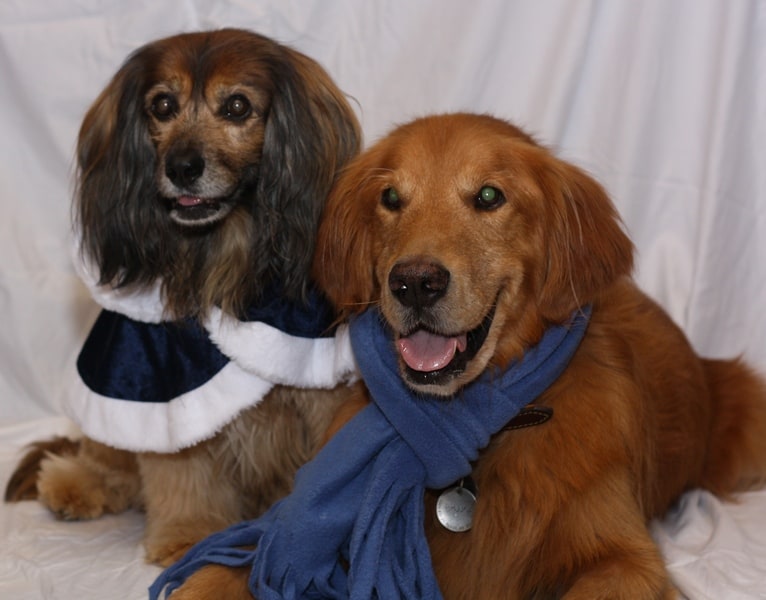 Hi and welcome to Wednesday Pet Roundup! The winter is setting in here in the northeast, so time to get out the puffer coats and Uggs. Brooks and Kelly model their warm winter wear for you.
* This singer put her pet's needs above her concert tour. Fiona Apple postponed the last leg of her tour to be with her dying pit bull, Janet. She'd rescued the dog as a puppy from a dog fighting ring. "I just can't leave her now, I hope you understand." Apple posted on Twitter.
* Did you watch the National Dog Show on Thursday? Which breeds were your favorite? I loved the huge Great Dane, who looked even larger because his handler was on the short side. And the Bearded Collie was so cute. The winner? Sky, a wire fox terrier. Remarkably, a wire fox terrier also took the honors last year!
* Which animals are considered illegal to keep in New York City apartments? Is it permissible to slaughter rabbits in Chinatown? The New York Times interviews Christine Mott, chairwoman of the animal law committee of the New York Bar Association. If you live in the Big Apple, find out how animal laws affect you.
* Cherise Udell from Care2 writes the slightly tongue and cheek 8 Reasons Cats are Better than Kids. Funny or just plain wrong?
*Enjoy this picture!