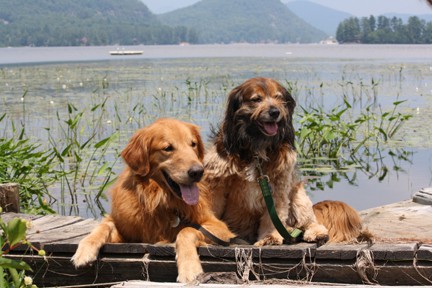 Hi and welcome to Wednesday pet roundup. We're having a heatwave, so Brooks and Kelly cooled off by the lake. Here they're bringing you the latest links!
* Splash! Everything you always wanted to know about dock diving on the New York Times sports.
* The most expensive dog wedding: Baby Hope and poodle Chilly were wed in New York City in a $270,00 affair. Don't woof too loud, though, the event raised $50,000 to benefit the Lucky Diamond Critical Care Ward at the Humane Society of New York.
* One of the most thorough articles I've read about How to Help Abandoned Pets. The Los Angeles Times shares how to stop pet overpopulation, how to keep your pet out of a shelter, and how to go beyond pet ownership.
* Like Lolcats? The world's first film festival dedicated to viral cat videos debuts August 30th!