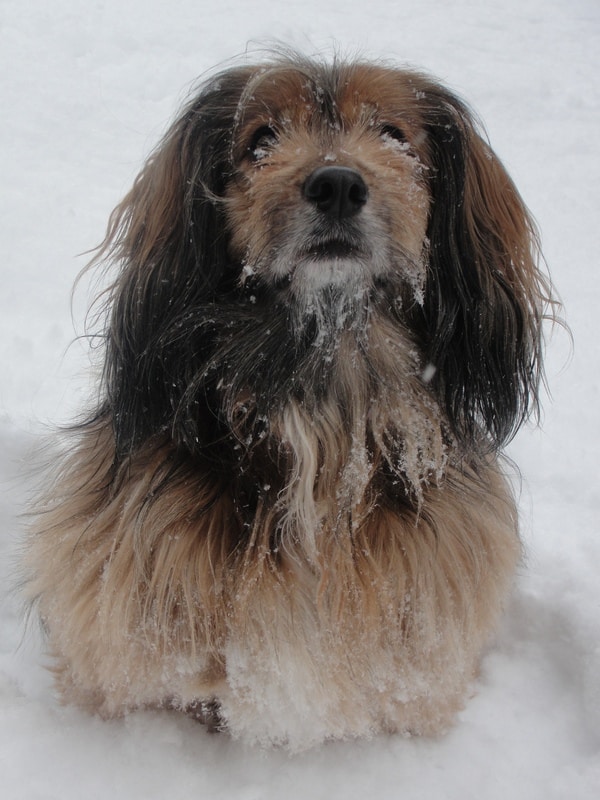 Hi and welcome to Wednesday Pet Roundup! Here is Kelly out in the snow. Let's hope that March goes out like a lamb…and real soon!
* Did you celebrate St. Patrick's Day? I hope you had as much fun as these 50 pets celebrating St. Patrick's Day.
* Steve Dale says, "The magic solution for good health has four legs and a tail." Agreed!
* From KTRK- TV in Houston, a bittersweet story on a rescue group that cares for terminally ill pets. "They'll be in a home," says April Plemons, vice president of Long Way Home Animal Sanctuary and Pit Bull Rescue. "Not a shelter, not a kennel, not a crate. In a home."
* A circus in Japan is working to change the country's mind about where they get their pets. Find out what Wow Wow Dog Circus is doing to help promote pet adoption.
* I usually stay away from contests where you have to ask people to vote for your entry, but when Tess from SkinnyScoop nominated Peggy's Pet Place for one of their Top 25 Pet Blogs I was so flattered and excited, I wanted to share the news. Could you please take a moment to jump over and vote for me? To vote, just scroll down through the entries until you find Peggy's Pet Place. Then just click on "like" and leave a comment if you desire. Thank you so much!
* I'm giving away 2 free books– Once Upon a Flock by Lauren Scheuer. Hurry, contest ends today!
* Congratulations to winner of Woof Pack goodies Tamra H. and Kumfy Koatz harness Shelley P.
Want more, pawsitive pet tips, good news, and special bonuses? Content not already on the blog? Subscribe to my free newsletter. (Brooks and Kelly say thank you!)