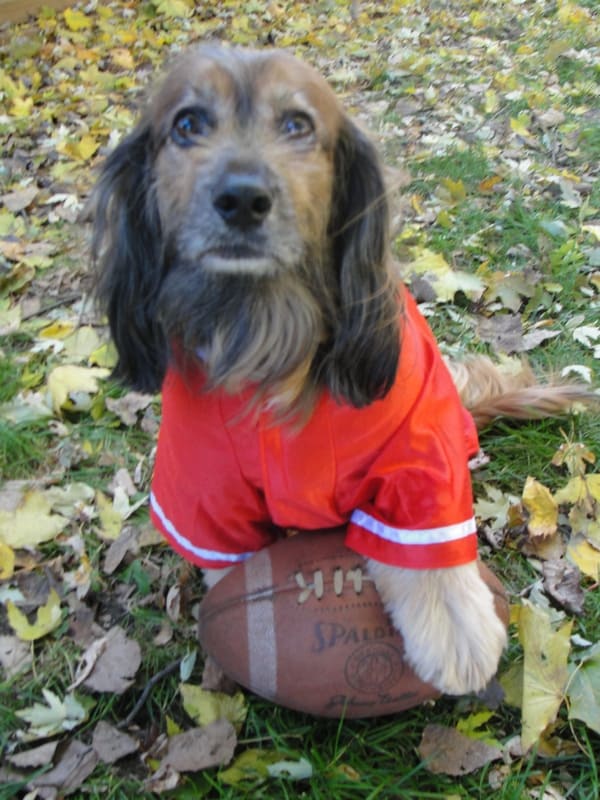 Hi and Welcome to Wednesday Pet Roundup! Kelly is enjoying playing outside in the leaves. Does your dog have a favorite team?! Here are the links for this week:
* Fox news reports on the best breeds of dog for home protection. What do you think—doberman? rottweiler? You may be surprised by one of the answers.
* Joyful news when Jack the cat was found alive in a claims room, after being lost for 7 weeks at JFK Airport. Sadly, however, abc news reports that due to wounds that couldn't heal, he died last week.
* Have you heard of Musher's Secret, an "invisible boot" made of natural wax to protect dogs' paws from the snow, salt and ice. Pittsburgh Post-Gazette.com tells us about this and other products to help our dogs feel more comfortable this winter.
* On Care2.com, this Pet MD article answers Weird Questions You Don't Want to Ask Your Vet.
Weight Loss with a Wag blog tour stops today: Five Sibes invites Kelly and I to come on in and sit down for a spell and visit with the sibes. Pop on over and say hi!