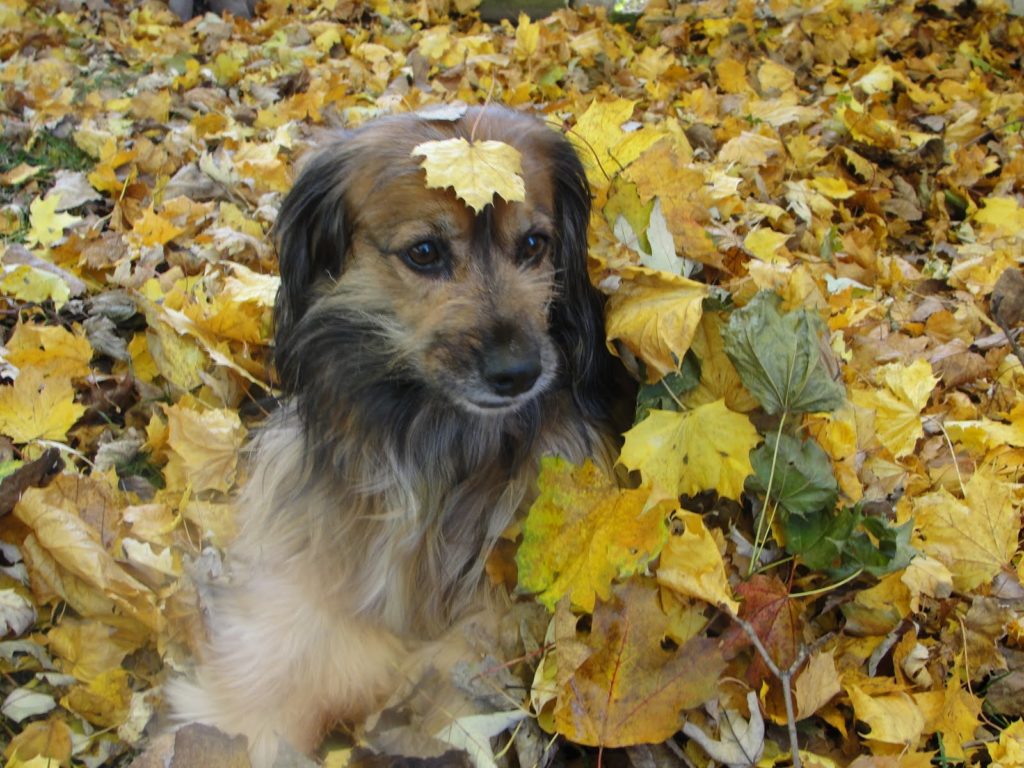 Hi and welcome to Wednesday Pet Roundup! Here's Kelly enjoying the fall leaves.
* USA Today Paw Print Post tells us of Bandit, a 15 pound terrier hero dog, who awakened the household by barking and jumping on the sleeping residents, to warn of dangerous smoke filling the kitchen (due to a neglected pot on the stove). Fortunately everyone–including Bandit–escaped safely.
* This is so funny, from The Oatmeal! How to Pet a Kitty. This cartoon includes whimsical instructions, and warnings, including: "An exposed belly is an invitation for a tummy rub. …(it) can also mean that the kitty wants to ensnare you into a whiskered bear trap, composed of claws, teeth and agony.
* Why, according to Boston.com, was one MIT professor so taken with the way cats lap up water without getting their faces wet? Because these findings might help in developing soft robots that manipulate liquids.
* From SF Gate: a study by Sittercity.com found the best city to hire a pet sitter is Milwaukee, WI. This was calculated by number of pet sitters available, and average rate charged. Did your city make the top 10 list?
* Gotta love this picture (from the Huffington Post.) Dana Jennings, author of What a Difference a Dog Makes; Big Lessons on Life, Love and Healing from a Small Pooch, reflects on the four dogs who changed his life. Harry and Moxie, here, are definitely my favorites!