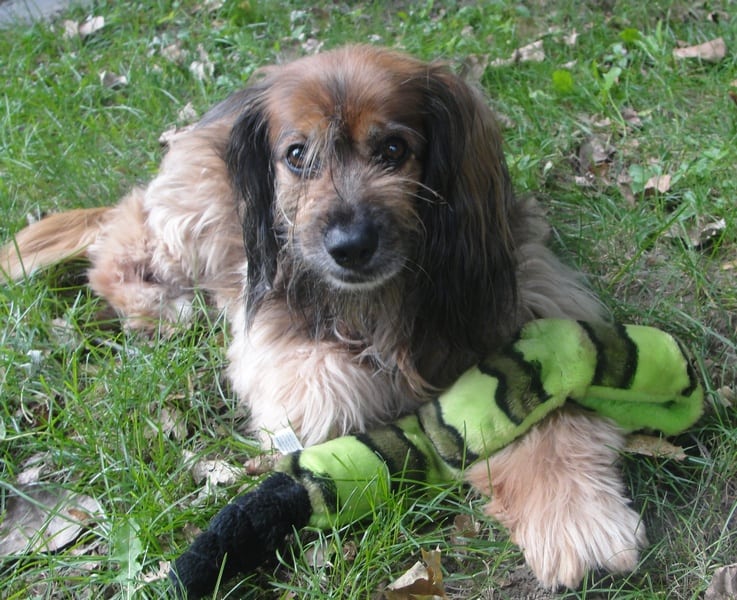 This is my very best friend, Snakey.
Hi and Welcome to Wednesday Pet Roundup!
* Have you seen the marathon of posts, messages and tweets for "Less Adoptable Pet week"? I love it! These pets include black dogs, FIV+ cats, senior pets, and special needs pets. Even Ellen got in the act! Have you ever adopted one of these special animals?
*Beware of a cruel new email scam demanding cash to vaccinate puppies "or they will die." The emails allege to come from the San Francisco International Airport, but officials there warn this is not the case. The Huffington Post reports that the emails claim to be selling puppies and other exotic pets, and then "demands payment of $410 to cover the cost of vaccination. And, just in case the drama of a lawsuit is not enough, the scammers include a final line in the email: 'Remember, if this puppy is not vaccinated, he is going to die.'"
photo courtesy of Business Insider
* And now for something to put a smile on your face, check out this slideshow from Business Insider of cats using computers!
* Have you and your dog been getting fit along with us? It's never too late to check out Koly and Kelly's K9 Kamp. There is no need to sign up. No commitment. No obligation. No secret handshake. We'd just love to see you drop in and check out some of our fitness challenges, healthy recipes, and fun. And, as always, check back on Thursday to win great prizes such as collars and leashes, toys, ID tags, DVDs, and more! (and, 1 day left to win fetching sticks!) Check out how some of K9Kampers are doing– after the jump.
How are you doing this week in K9 Kamp? Check out the rest of the kampers at Kol's Notes!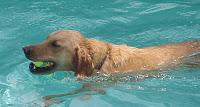 1. All Things Dog Blog
Tanner and I have been enjoying our Fetch games. This morning I took a walk without him and he is currently doing make up work–I put 8 fetch toys in our lap pool and asked him to remove them all. (yes, he knows their names) He's having a mental challenge that is keeping him very busy swimming. It's rather cute to watch. I started with 4 toys, but he quickly managed to remove all 4, create a pile by the door and give me the "come out and throw them again look" through the french doors. He's no dummy.
Oliver and I had a little success with teaching fetch yesterday, after a largely fetch-challenged 3 1/2 years. He surprised me with a bit of interest and aptitude. Maybe we'll get there eventually, as long as Tanner is not around.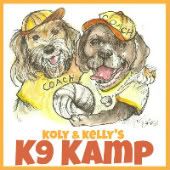 I also played Fetch with my mom's Papillon yesterday. He's larger and more assertive in his play style than Oliver. Oliver just watched in amazement. Maybe that's why he decided to tackle fetching the toy…pooch peer pressure! So, in total, we're well over 3 hours of fetch and still counting. I raced Tanner to the fetch toy in the pool by swimming (3 different days) and found that I actually can outswim him if I go underwater. That was fun….just seeing his reaction. He has no interest in becoming a diving dog. LOL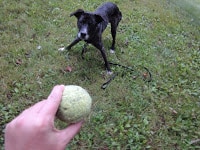 The bad news is, Shiva lost the tennis ball. The good news is, her recall has really improved in the last year. "Fetch it Yourself" is a pretty challenging game for a human who has a hard time keeping up with her dog at normal speed. Add in a ball to chase, a big distracting park, and the freedom to run… It was pretty much guaranteed Shiva would beat me to the ball. Every. Single. Time. I even cheated and gave myself a head start! Taking advantage of her excellent "wait" cue, I took several large steps forward, threw the ball, started running, and then released her. And she STILL beat me to the dang thing! I am thinking I need to invest in a doggy backpack after all. Hopefully the extra weight will slow her down. Since her retrieve outdoors isn't as strong as her recall, she didn't do a whole lot of fetching. She would blast ahead of me, grab the ball, and then ran around in a huge circle. That's when I called her to come back, running in the opposite direction, trying to get HER to chase ME for a change. It worked but she dropped the ball in the process. We managed to find it again somehow for several more throws but eventually it was lost to the wilds. Oh well. It was fun while it lasted. I think next time I will find a good old fashioned stick.
3. Foley Monster and Pocket
(Here is an excerpt from their week, where Dad was recruited to help with the challenge)
"Soon they were both having so much fun. Racing each other on the floor for the ball. Pocket was barking. Daddy was smiling. I was amazed. This was the dumbest thing I had ever seen a human do. But he kept going, for about ten minutes, until he realized, that, sweet, fancy Moses, his lungs were exploding, his knees felt like they were shattered, his back throbbed, and he was about two minutes away from dying. He wanted to stop.
"No quitting!" I yelled. "You got ten more minutes. Keep it up maggot. Crawl. Crawl like the bug you are!" I would be an excellent coach on The Biggest Loser if I wasn't so afraid of being sat on by an enormous behind…"
How did Kelly do? She thought the fetching was fun for the first 5 or 10 minutes, then didn't want to play by the rules. I found that breaking it down into shorter sessions worked for a dog of limited attention span (and okay, a mom with less stamina!)
Keep entering the weekly contests! The winner of the week 2 Fetch It Yourself challenge is Cynthia from My Household Zoo! Congratulations Cynthia!