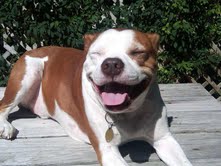 Hi and welcome to Wednesday Pet Roundup! This is Sonny. He's smiling because…
* The first rescue dogs are arriving at the former home of Michael Vick, which is now a dog rescue facility thanks to the rescue group Dogs Deserve Better.
* ABC news brings us the story of Naki'o, the bionic dog with four prothetic paws. Naki'o is running and playing, and adjusting well after losing his paws to frostbite.
* In other medical news, Sugar, the cocker spaniel mix who was paralyzed in the Joplin tornado, is improving after surgery and her family is hopeful she'll regain full use of her legs.
* Oregon Live, a new dog sport called K9 Nose Work sounds like fun for dogs!
* From the Baltimore Sun, tips that can help dogs afraid of fireworks. Two interesting solutions: Anxiety Wrap and Calming Cap.
Is your dog afraid of fireworks? Would your dog excel at K9 Nose Work? What do you think of the advances in medicine that can help injured dogs in new ways?