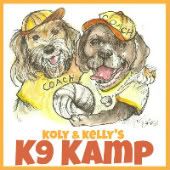 834 Entries…51 Kampers…hundreds of miles walked and hops hopped….Here are the official winners of K9Kamp!
We've had an amazing 6 weeks of Koly and Kelly's K9Kamp and first I want to thank Jodi and Kol of Kol's Notes for being the most fantastic organizers, partners and Kamp co-director and co-coach ever!
Also, to our fantastic featured bloggers who endured every challenge with grace and style! And to everyone who participated, visited, and supporting our kampers! Way to Go!!
This has been so much fun!
What? You say you want prizes? Okay, well here they are! We are overwhelmed by the generosity of our fantastic sponsors who have donated all the great prizes.

Jen from My Brown Newfies!!!
SECOND PLACE
THIRD PLACE
Katie Mitchell!!
Challenge 1: Walk It Off: Melissa Freer of No Dog About It
1 year e-subscription to FIDO Friendly Magazine featuring tips for travelling with your pets,
Marley and Me: The Puppy Years DVD
handmade matching Sam's Wardrobe Leash and Collar Set from Krazy for Pets
designer metal pet tag from Tag Me Pet Tags.

Along the way, we got to showcase our fabulous Featured Bloggers and a fantastic product at the same time– Handmade, All Natural Juniper Wood Fetching Sticks from
Molly Products
to:
Ashley C
Kelly Ann T
Sharon Gilbert
And, along the way we also offered surprise Pop Up Prizes on Facebook and Twitter to: