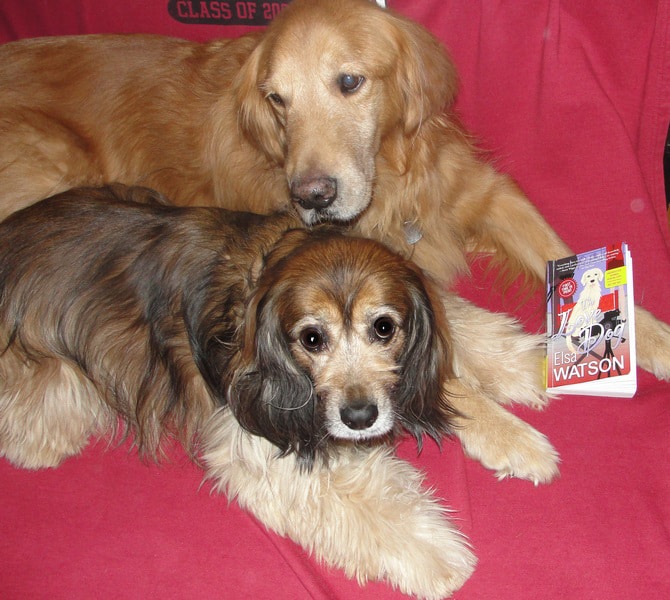 Brooks and Kelly love The Love Dog.
This month, the month of LOVE, I'm going to post something on the topic of LOVE every weekday until Valentine's Day!
And I have the perfect first post…a book review of The Love Dog by Elsa Watson.
*KEEP READING FOR YOUR CHANCE TO WIN A COPY OF THE LOVE DOG! CHECK OUT OUR RAFFLECOPTER AT THE END OF THE POST!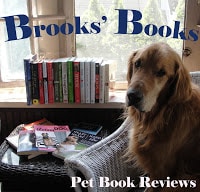 Brooks here:
You might not think I'd be into books about mushy, gushy stuff like
love
, being I'm a manly man. But I've got to tell you, the main character of
The Love Dog
, a golden retriever named Apollo, is my hero! I always enjoy books told in the voice of a dog (this book is also told in the voice of a woman, but I guess I'll let that slide.) If only Apollo wasn't a fictional character, we'd be best bros. I highly recommend this book to all dogs, dog
love
rs, and dog parents. I could relate to so many of Apollo's thoughts, such as his fondness for treats, and how he wants to make people happy. Now, here's Mom with the review.
ENTER OUR RAFFLECOPTER AT THE END TO WIN A COPY OF THE LOVE DOG FOR YOURSELF!
Peggy: The human main character of
The Love Dog
, Samantha, is a writer and blogger who believes that
love
is just a fairy tale, and the reality TV show The
Love
Dog is a scripted sham. Will she change her mind by the end of the book?
The Love Dog is a delightful read, with well-developed characters who made me care. I especially liked Samantha as she struggled to find answers and set right past mistakes. The real fun, however, was reading the thoughts of golden retriever Apollo, who is no ordinary dog. I have to admit to getting misty eyed several times, when Apollo showed sacrificial devotion to those who didn't treat him the way he deserved.
And then there was Apollo's special talent. The show's host
,
Mason, tells Apollo, "You are the
Love
Dog. Your mission is to help people find
love
. You'll have the power to change their lives. Can you do that?" Sweet Apollo takes his job seriously. And the moments when he closes his eyes, concentrates, focuses and sends his
love
to others are especially touching.
Throughout the book I was rooting for Apollo. I was rooting for Samantha, and Mason, I was rooting for them all to find
love
and to find their own happy endings.
I highly recommend
The Love Dog
by Elsa Watson.
Enter our Rafflecopter now!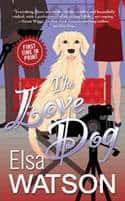 Elsa

Watson

's novel
Dog Days (Tor, 2012) took readers on a hilarious and heartwarming
journey inside the mind of (wo)man's best friend. This winter, Tor will
release

Watson

's


THE LOVE DOG (A Tor MM Original; $7.99; On-sale January 29, 2013)

—a fresh and delightful standalone romance in the vein of
Dog Days that is sure to appeal to readers of women's fiction and
dog lovers.
Publishers Weekly calls it "[an] adorable story," and included it in their Best Romance Books of 2012 list.