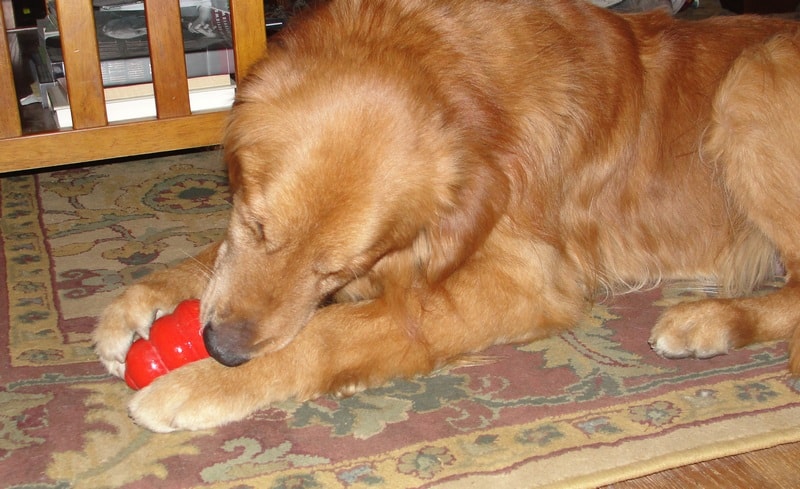 I'm holding on tight with my front paws.
They're funny shaped. They're versatile. They come in all colors and sizes. They can help keep your dog occupied. And they can be stuffed!
I've always given my dogs Kong toys, but until recently I never realized how popular it is to stuff them!
You can buy a spray can of stuff to squirt inside. But why not get creative.
There are lots of fun ways to stuff them. Remember, first fill the little hole at the top of the Kong with peanut butter or something.
Then fill with:
*large chunks of dog biscuits
*canned dog food mixed with kibble
*leftover lean meat mixed with steamed or mashed veggies
*chunks of apples, banana, blueberries, strawberries, cantaloupe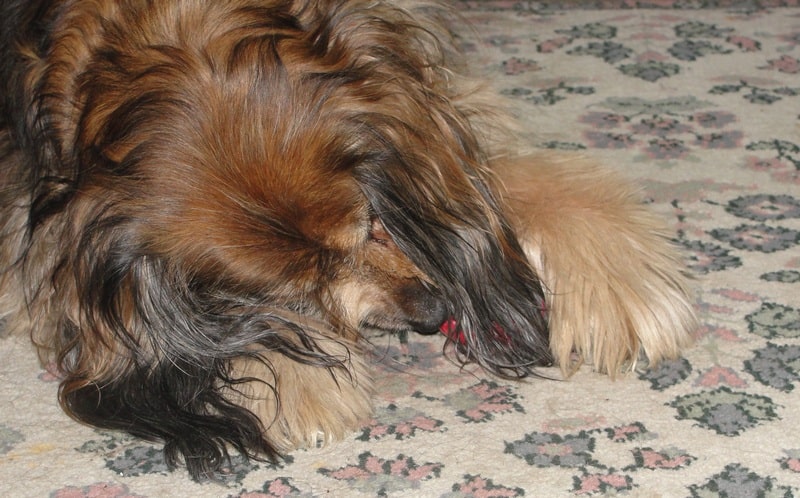 Can you see it there under all my fur?
*cottage cheese mixed with fruit
*green beans
*frozen banana
Mix and match ingredients. Freeze and serve frozen for long lasting fun.
Remember, not all food is good for dogs, so when in doubt be sure to check with your vet first.
The ASPCA has some great recipes for stuffed Kongs too!
What do you like to stuff in your dog's Kong toy?
—————-
Kong toys with healthy stuffing can be used with your dog on a diet too. They take longer to eat, they keep your dog busy and even the act of getting out the food can burn a few calories! I wish I'd known about this when I was dieting with my dog. But anyway, we can do it now (and Brooks too)!

MY BOOKS:
*And don't forget my K9Kamp partner Kol today. He's got some great tips on k9 massage and stretching.
*While we're talking about k9kamp, how is your walking going this week? Keep it up! And don't forget to go to the PRIZE PAGE. You could win custom collars and tags, dog toys, harness and leash dog books, a dog nap mat, and more! If you want to get fit and have fun that's where all the prizes are!