Have you seen the new show, "Who Let the Dogs Out?" It's hosted by Tillman the skateboarding dog and Norman the Scooter Dog and also features health tips by Doc Halligan–you can check out some of her topics here— and lots more. It's a really fun show about dogs dogs dogs! (It airs Fridays at 1pm on the Hallmark Channel)
After last week's episode, I found out that BlogPaws is holding a contest for free registration to the BlogPaws Social Media Pet Bloggers Conference, and "Who Let the Dogs Out!" is adding a free hotel stay at the Sheraton Tysons Corner, VA!
All I have to do to enter is answer these 3 questions:
1. Tell us what you like the most about the show "Who Let The Dogs Out" in general.
The best part of the show is, of course, the dogs! Tillman is so amazing to watch
on his skateboard, I just can't believe how adept he is at that, and how
much he seems to enjoy rolling along. And Norman the Scooter Dog is
awesome too, and has the most adorable ears! I enjoy that the show
highlights not only talented dogs, but also topics and events that are of interest
to pet lovers!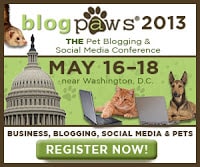 2. If you've never heard of BlogPaws before, tell us what you learned
about BlogPawsfrom watching the episode. If you know about BlogPaws,
tell us what you liked the most about the segment. I've heard about
BlogPaws before, although I've never yet attended. Many of the pet
bloggers I know have attended. On the show, I liked getting sneak peaks
of the atmosphere and what goes on at BlogPaws, so that I'll have an
idea what I'm in for if I do attend!
3. Tell us what you'd LIKE to learn at BlogPaws 2013. I'd
like to learn more all-important technical stuff that often
boggles me. And any tips on how to make the blog more fun, exciting and
engaging. (And I have to admit, I want to meet all the dogs!)
This blog hop is hosted by Tillman's blog at TillmanSkates!