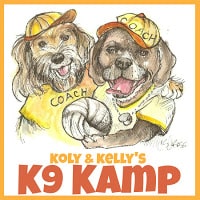 Tomorrow
is our first K9Kamp Challenge!
Jodi, Kol
and I are so excited! You can join in too! Check in every Friday to see our weekly challenge, and consider kamping with us. It'll be
fun, fitness, bonding and even prizes!
Eight bloggers have committed to joining with us and completing every challenge, and blogging about their experience each Thursday throughout Kamp.
Tomorrow: CHALLENGE #1–Walking on Sunshine
I'd like to introduce you to our Featured Bloggers:(click on buttons to visit their sites!)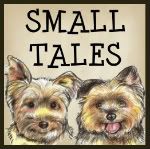 Foley Monster and Pocket and Marsha from Small Tales

Bella and AJ from I Still Want More Puppies.



Shiva and Kristine from Rescued Insanity
Audrey and pups from Pooch to 5k

Oskar and Pam from Pet Blogs United


Daisy and Liz from Woof Woof Mama

Riley and Elyse from Adventures of a Cattle Dog
Cinny with JR and Baby Pom from Whirlwind of Surprises
And of course, Kelly and me, and Koly and Jodi from Kol's Notes too.
Why are Kelly and I Kamping?
Last year my book was published, Dieting with my Dog. Kelly lost 6 lbs and I lost 41 lbs! Since then we've been working hard at trying to maintain our weight loss. Kelly has done great, but I've struggled at times. So K9Kamp is a great way to have fun while getting some exercise.
And this year we have a new addition, Brooks, who will be joining in too! K9Kamp is the perfect way for us all to bond as a blended family.
Now let's Hop! Learn why our pawsome Featured Bloggers are Kamping with us! And you can Kamp with us too! Anyone can join in these fun challenges every Friday. No registration, no fuss, no muss. Won't you kamp with us? Just join our blog hop and tell us why you'd like to Kamp too!
Do you want to join in our blog hop?
Click here get the InLinkz code to display on your blog!