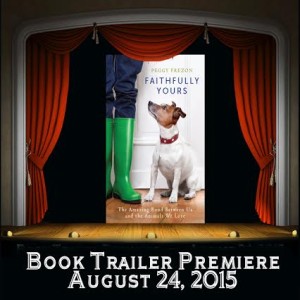 Why do we love animals? And why do animals love us?
These are the questions I sought to answer in my new book, Faithfully Yours; the amazing bond between us and the animals we love (Paraclete Press, October 4, 2015).
When I thought about it, I realized this amazing, strong love is because
of the reciprocal relationship, the human-animal bond, that is possible between
animals and ourselves. We are devoted to them, and they are devoted to
us. We protect them, they protect us. And as many of us know, we
rescue them just as they rescue us.
Faithfully Yours is a book full of true stories about how people love animals…and animals love people. All sorts of people—young and old, healthy and hurting. And all kinds of animals–dogs, cats, horses, rabbits, cows, chickens, parrots and even whales and deer.
Well, that's a little bit about the book. And now it's time for the Video Book Trailer Premiere! After writing the book, I wanted to create a video that encompassed this bond and the loving relationship we have with animals, and reflects the heartwarming stories in the book. So, here's the video. I hope you find it speaks to you.
If you like this video, won't you join in the Premiere fun and share it today? Post it on your Facebook wall, in a tweet or Instagram, or email it to some pet-loving friends?
And if you really like the video, Faithfully Yours is available for pre-order now. As a Premiere BONUS, if you order Faithfully Yours on Amazon today, just leave a comment here to tell me you ordered, and a way for me to get in touch with you–or, send me an email–and I'll send you personalized signed bookplates you can adhere to the inside of your books as a thank you!
What about you? Is there an animal in your life who is faithfully yours?