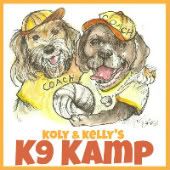 I know you've been hearing a lot about Koly and Kelly's K9Kamp lately, and I hope you're not getting sick of it. Kol's Notes and I are having fun bringing fitness challenges to you, supporting doggies and pet parents alike who are looking for a way to get in shape. We also are excited about bringing you prizes. Who can get sick of that?!
Grand Prize Package— Hurry! The last day to enter is Wednesday Oct 12.
If you've already entered during on of our weekly challenges, your entries will carry over. Remember, you can earn bonus entries by liking the sponsors too!
If you're just joining us, or haven't yet entered a weekly challenge, it's not too late! All you have to do is complete one of your fitness challenges (Why not try this one: Fetch it Yourself!) and then leave a comment saying you did. You can also tweet, like our sponsors, and help spread the word too!
If you've been kamping with us, don't forget to add a post to the "What I learned at K9Kamp" blog hop on Wednesday Oct. 12 to earn bonus entries!
Here is the pawesome GRAND PRIZE package you can win. Click on "read more" below to enter!
RafflecopterSettings = {
raffleID: 'YzAyNTU3NDIwNGYyZmUwN2U0ZmI4ZjgwZDFjMzk0OjIz'
};
<a href="http://rafl.es/enable-js">You need javascript enabled to see this giveaway</a>.