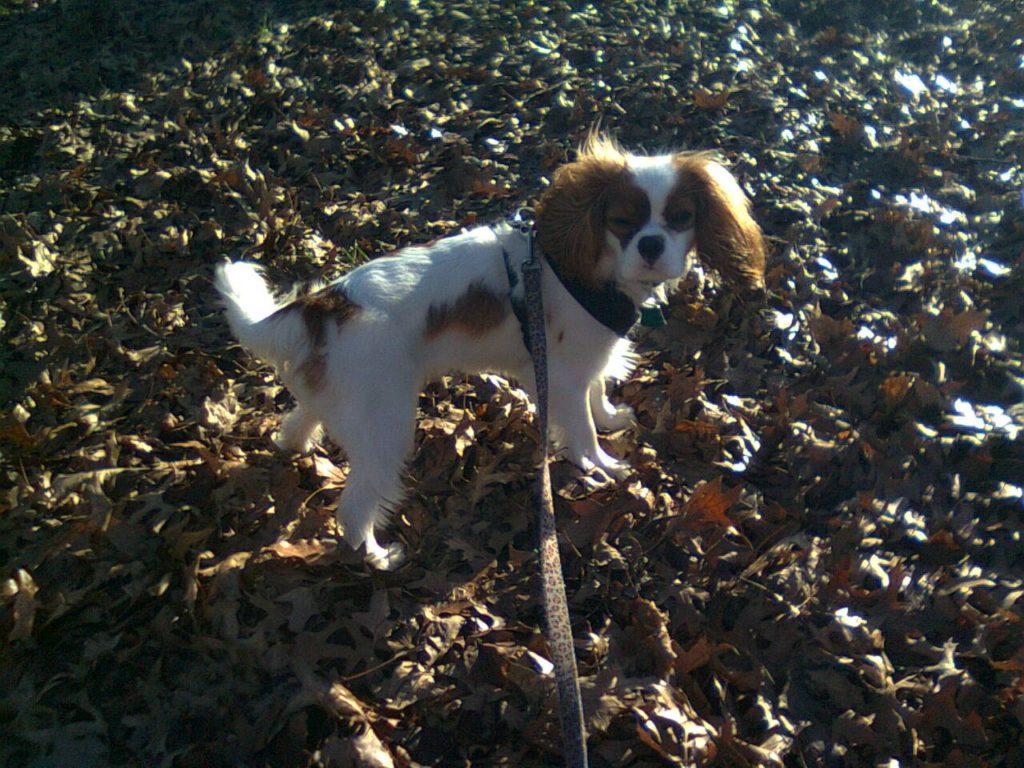 Daisy
A Spring Flower for Christmas
Guest Post by Sharon Azar
My holiday week between Christmas and New Year's was supposed to be relaxing—a few family visits, some quiet time with Norman and dogs PoohBear and Chili along with our semi feral feline, Samurai, one of the kittens from my recent cat family rescue.
We didn't figure on a hundred mile an hour whirlwind named Daisy!
Cute beyond words, the little 18 months young King Charles Spaniel puppy entered our lives as a holiday guest and wound up being my exercise trainer!
To give my elderly dogs and husband a rest, Daisy and I went for 4 hour walks (we sometimes ran) every day. Well, with my bad knees I thought this would be the end of my love of walking. But the opposite happened! The longer we walked the better I felt. Not to mention that Daisy loved exploring and meeting so many dog and human friends! When we returned home little Daisy slept like an angel and I felt great. Now, I'm taking longer walks with my dogs, even on the brutally cold days. Bless little Daisy's big, energetic heart.
Moral of the story: Sometimes we get stuck in our routines and we need a little whirlwind to shake things up. I even think my guys miss her.
(Don't get any ideas about adopting Daisy. She was not one of my rescues. She belongs to a wonderful Brooklyn family)
UPDATE!
Sharon's 5 tips for dogsitting:
1. Be certain to arrange a visit prior to the time you'll be caring for the guest dog so that you can see the dynamics of your resident dog(s) and the guest dog. This visit should be at least one hour or more. Initial meeting should occur outside on neutral territory so guest dog doesn't seem like an intruder. Then bring guest dog and his or her family into your home and see what happens. Keep all dogs on leash until you're certain everyone is comfortable.
2. You'll need a detailed written list and explanation of the dog's schedule of walking, eating and hygiene needs (teeth brushing, ear washing after eating; paw cleaning after walks, etc.), food allergies and behavioral quirks, if any. Discuss the dog's diet.
3. Name, address and all contact info for the dog's veterinarian as well as owner's contact info and trip itinerary.
4. Owners like to stay connected so I send frequent 'reports' as well as photos via cell phone.
5. Last but not least, give the guest dog lots of love and attention, but be sure to include the resident dogs so they don't feel jealous!
If you have any questions or concerns, you can e-mail me at: [email protected]
Missy, an adoptable dog from Sharon Azar's, WOOF!
WOOF! (Wagging On and On Forever!)— advice, information, resources and true stories about our animal friends. By Sharon Azar