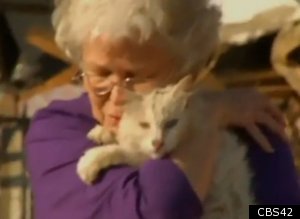 WOOF! (Wagging On and On Forever!)-– advice, information, resources and true stories about our animal friends.

by Sharon Azar
Miracle Reunion in Tuscaloosa-The Power of Prayer
When a powerful tornado devastated the region and hit her home in Tuscaloosa, Judy Pugh was terrified as she ran down the hall trying to escape with her 3 cats. Then one of the walls of her home collapsed on top of Judy and pinned her down to the floor. The tornado pulled her home apart like a cardboard box.
With only 2 black eyes, Judy survived mostly intact along with 2 of her cats. She felt that the wall probably saved her life protecting her from being pulled into the wind by the power of the tornado. But Judy was still sad because her 3rd cat, Cadie was nowhere to be found. For 3 weeks, Judy prayed and searched, returning daily to the rubble that once was her home.
As the CBS cameras were filming Judy, surrounded by the rubble of her former home and telling her dramatic story, a miracle happened—right there for all to see on television—Cadie, her 10 year old "baby" cat appeared almost out of nowhere. The long haired cat sauntered up to Judy to the amazement of the news team. As Judy bent down to hug her little friend, she was overcome with joy and thankfulness. "I have everything I want now!" Judy cried.
No one knew how Cadie survived the tornado and the cold weather with no apparent source of food. A friend said "you can always re-build a house and buy new things, but life is precious and what a miracle to be reunited with a friend you thought had been lost."
Check out the full story of the miracle cat and watch the CBS43 video with the reunion here:
See Sharon's adoptable pets on Petfinder.