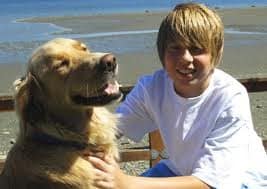 Woof Friday is a guest post by Sharon Azar, of WOOF! (Wagging On and On Forever!
Visit the first Friday of every month for her advice, information, resources and
true stories about our animal friends.
"Thousands of candles can be lighted from a single candle, and the life of the candle will not be shortened. Happiness never decreases by being shared." –The Buddha
(Photo credit: North Kitsap Herald)
Chasing seals sounds like fun, especially if you're a young golden retriever dog. It could also get you into trouble, which is exactly what happened to Kali, who lives in Scandia, Canada with her buddy, 14 year-old Kohl Serwold.
Kali would often romp in Liberty Bay near her and Kohl's home in Scandia. She's a good swimmer and never had a problem. But the seals were so exciting; Kali forgot herself and just continued the game of chase. The brave 14 year old watched his dog as she swam almost 400 yards out. "It was farther than normal so I started calling her. She would turn around, then she'd keep going," he said.
Kohl knew his dog was getting exhausted and feared she would drown. As taught by his firefighter dad, donning a life jacket and jumping into his kayak, he paddled to Kali, got her into the kayak and took the exhausted dog home. During the ride back, the seals did some 'turnabout is fair play' and escorted the pair back to shore.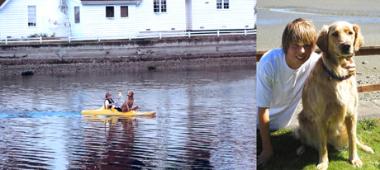 See Jennifer Morris' blog from the North Kitsap (WA) Herald and updated report about how Kohl Serwold will be receiving the American Red Cross Real Hero award.
Let's give a round of 'apaws' to this young hero!