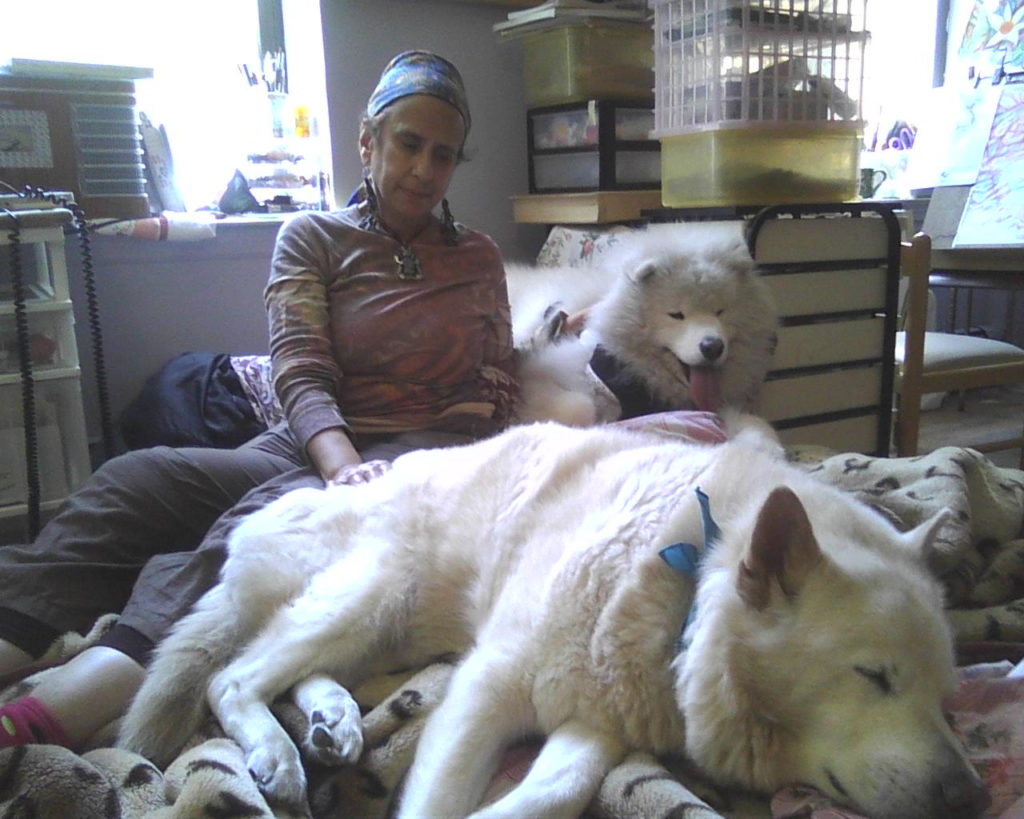 Sharon with big furry CodyBear and PoohBear
Temporarily Displaced by Fire
Guest Post by Sharon Azar
I didn't realize how complex a situation it would be for my aging, arthritic PoohBear and blind,
toothless Chili, not to mention my skittish, half feral cat, Mushi….
On Monday morning a co-worker at Guideposts magazine, Adam Hunter, told me about a man and his dog whose apartment had caught fire. The man, Stan, and his dog were okay, albeit a bit dirty from the soot, but they lost everything.
When I heard the dog's name I realized I had met Stan and CodyBear recently on one of my lunch breaks. They lived just 2 blocks from my office. I remembered having a long conversation with Stan about Codybear, a 65 lb. young male Samoyed who reminded me of my PoohBear. Now the two had no place to live. What could I do? I offered to take CodyBear into my pack while Stan 'couch surfed' and searched for a new place to live.
But I lived in a small apartment chock full of pets already. My two dogs and cat were all outraged when CodyBear and I walked in the door! What had I gotten myself into? I do a lot of rescue work and my husband, Norman, bless his heart, is always supportive of my efforts. Well, I was at a loss, but I wasn't going to back out. This was a way of helping a man who had lost everything he'd owned: clothes, furniture, irreplaceable memorabilia, etc.
I decided to take time off from work to try and make this work. We had to find a way to avoid an all out dog fight. Mushi took one fast frightened look at this strange big furry creature and disappeared into the backyards of Brooklyn. Chili stayed in his bed curled up in a ball, and PoohBear walked around growling loudly and bearing his teeth to poor Cody who didn't understand what was happening, especially when Stan walked out the door. What to do?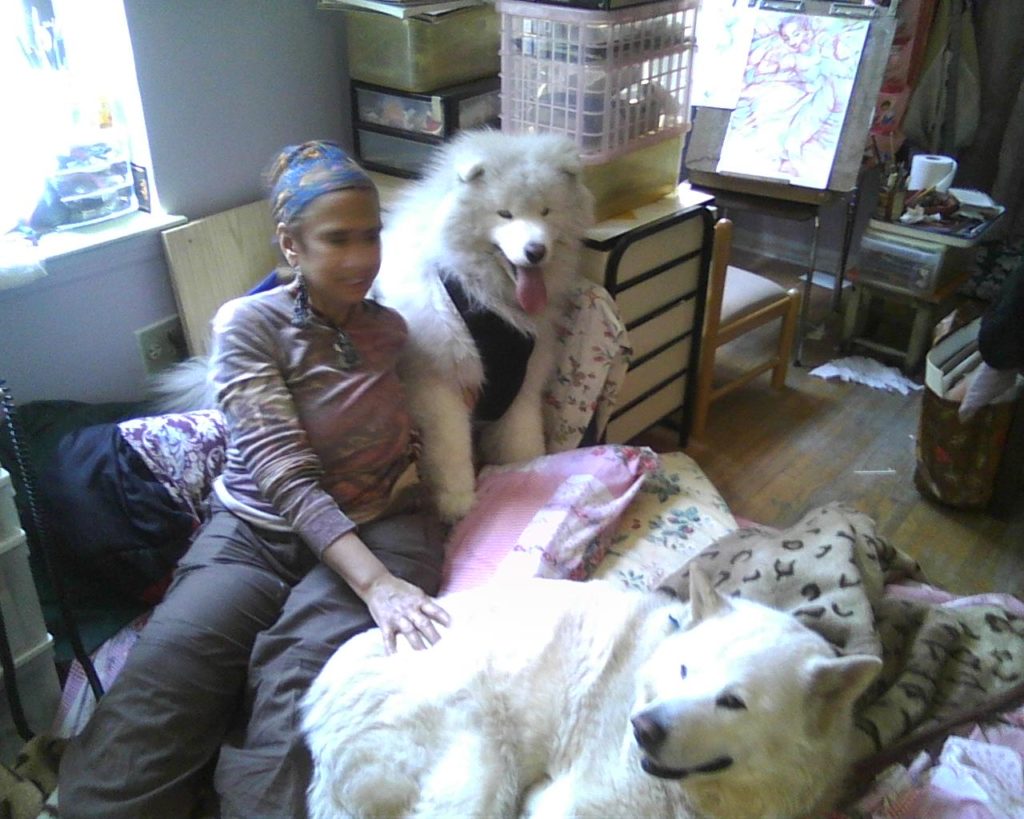 Sharon with PoohBear and guest.
Each time PoohBear growled or barked I would speak softly, reassuringly to both dogs. I felt so bad for Cody. It took hours, but by the end of the first day Pooh and Cody were on the bed on either side of me…far from friendly, but at least without hostility. Even blind Chili came out of his cocoon to investigate the gentle giant.
This is how we spent three days. Then Stan called with the good news. He had found a new home and was coming to get his sweet boy. Mushi, my cat, must have sensed something because he came back
that day, totally fearless of the jolly white giant.
Everyone in the family had to compromise, but there was a happy ending!
—————-
Please check out Sharon's WOOF! (Wagging On and On Forever!)– Petfinder listing for pets up for adoption in NYC area.