Your dog rocks, so he surely needs to give his pawtograph to everyone he knows! And keep reading, because you could win one here!
When I scheduled my first book signing for Dieting with my Dog, everyone asked if Kelly was going to be giving pawtographs. I considered buying an ink pad and pressing her paw into it for every book. But fortunately I found a better way!
Looking over the websites offering rubber stampers, I quickly determined that I wanted a self-inking stamper. I'm not known to be the neatest person when it comes to crafts and baking, etc, so if there was a way to make a mess with an ink pad, I'd be sure to find a way.
I also wanted a nice quality pawprint, and Kelly's name underneath. And, I couldn't pay an arm and a leg.
Impossible? Not at all!
I located The Rubber Stamp Man, and he had just what I wanted at the right price. The website is pretty basic, but when I called on the phone to place an order I got exceptional service. The price was right, and free shipping!
My stamper arrived promptly and it is excellent quality and just what I wanted.
I was able to pawtograph more than forty books that first night, and it has held up well to stamp dozens more! The ink is refillable, so no worries if I run out.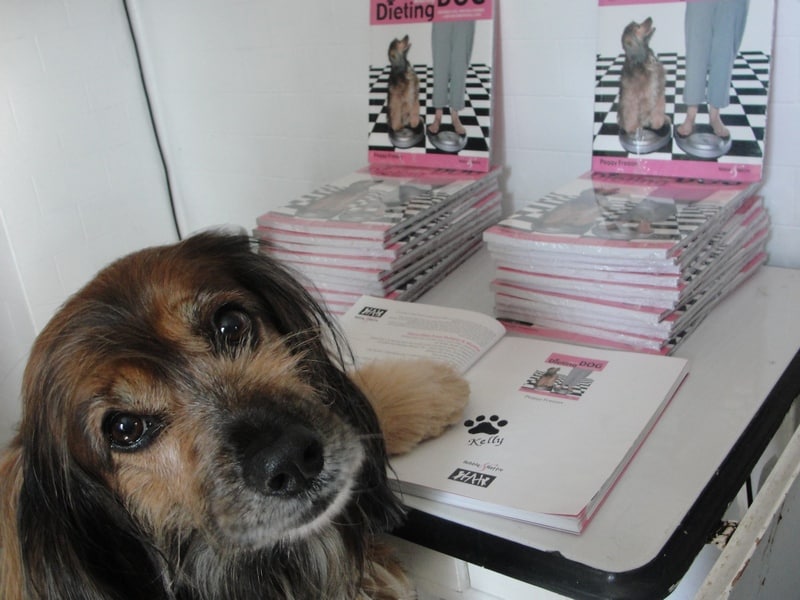 And now, you can win your own pawprint stamper! Wouldn't it look cute on your stationary? Holiday cards and envelopes? Just about anywhere! One lucky winner will receive a Rubber Stamp Man regular size self inking stamper with pawprint and your pet's name!
*All you have to do is leave a comment below, saying why you would like a pawprint stamper.
* For bonus entries, follow this blog and "like" Dieting with my Dog on FB (tell me that you did!)
*One winner will be selected at random.
*Contest closes Tuesday Nov. 22
* Winner will be announced on my pet roundup on Wednesday.
* Be sure to leave a way for me to contact you if you win!
* Contest open to U.S. and Canada only, excluding Quebec. (Canadian winners will need to answer a skill testing question.)
If you don't win, you can order a pawprint stamp of your own form the Rubber Stamp Man. Kelly gives them four pawtographed paws way up!!