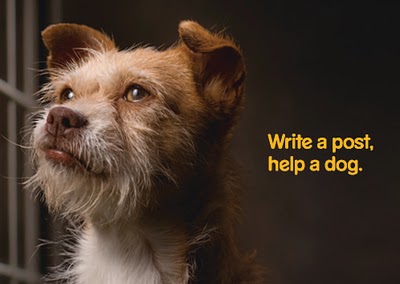 Things We Can Do to Help Shelter Pets:
1. Adopt pets from shelters or rescue groups. Give a homeless pet a chance.
2. Support shelters by donating your time, resources, food, blankets.
3. Blog about Pedigree's Adoption Drive.
Kelly is a rescue dog and I'm grateful to the rescue group we got her from for saving her and keeping her safe until we found each other. Shelters and rescue groups are run largely on donations and need our help to make things more comfortable for these beautiful pets while they are waiting for their furever homes.
Why write a post?

* Each year, more than 4 million dogs end up in shelters and breed rescue organizations. Pedigree created The PEDIGREE Adoption Drive to help shine a spotlight on the plight of these homeless dogs.
* This year the PEDIGREE® Adoption Drive is raising awareness for homeless dogs by donating a bowl of food to shelter dogs for everyone who becomes a "Fan" or "Likes" the PEDIGREE Adoption Drive on Facebook. So far more than 1 million bowls have been donated.
* For each blog that posts about the PEDIGREE® Adoption Drive through September 19, PEDIGREE® will donate a bag of its new Healthy Longevity Food for Dogs to shelters nationwide. It's simple: Write a post, help a dog.
When you are finished, join the special PEDIGREE® Blog Hop!