Most all of us have been affected by cancer…our loved ones, ourselves, our pets. Give Cancer the Paw is a blog hop where you can share stories, remembrances, and support.
Please join us tomorrow, Tuesday May 6th, on our 2nd Give Cancer the Paw blog hop of 2014.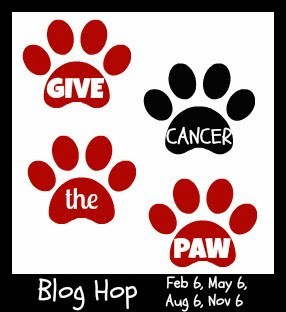 If you blog, please consider posting about anything you want to share about cancer and pets—Maybe it's about how you've handled a situation. Treatments you've tried. Living with cancer. Or a tribute. A memory. Encouragement. Resources. You could ask a question. Or share your helpful tips. Then just link up with our linky tool after midnight tonight. I'll be sharing a tribute to a very special retired racing greyhound.
If you don't have a blog, please stop by and visit some of the blogs in the hop.
Thank you for helping us Give Cancer the Paw.
Give Cancer the Paw Blog Hop, Tuesday May 6th.
Want
more positive pet tips, good news, and special offers? Fetch
my free newsletter, Pawsitively Pets. Kelly and Ike
hope to see you there!